< Back to our leadership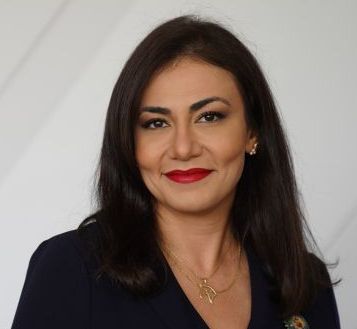 About Nivine Afiouni
Nivine Afiouni is a seasoned international television broadcaster, executive producer, communications adviser, senior media & executive coach. She is the founder & CEO of Afiouni Global Consultancy. She was among few reporters globally who begun climate change reporting in 2013. She is renowned in the Arab world for her ground-breaking television broadcast endeavors, including being the first Middle Eastern journalist, and first Lebanese woman, to reach Antarctica to produce an acclaimed documentary from the frozen continent. More recently in 2019, she produced a documentary on the geopolitics of climate change in the arctic region.
Afiouni is a well experienced hostile zones reporter. She worked in both Syria and Iraq on different occasions between 2013 and 2019, covering counter terrorism and researching political changes.
Afiouni is a seasoned C-suite media coach. She trains top rank politicians & executives in both; public & private sectors, on public speaking, media & communications crisis management, digital reputation, and nation branding.
Having begun her career in media more than 18 years ago, she held senior positions at 2 international news channels, Sky News Arabia as an executive producer, and Al Arabiya as one of its outstanding reporters. Afiouni was also a member of the launching team of Sky News Arabia back in January 2012.
Afiouni is a seasoned geopolitics and international relations expert. She covered stories on wars, political upheavals, and climate change. She resides in UAE and have worked in, Saudi Arabia, Bahrain, Iraq, Syria, Morocco, The Artic, Antarctica and USA.
Afiouni holds a Master's degree in International Affairs & Diplomacy from Fletcher School of Law and Diplomacy at Tufts University in Boston, USA. She also holds a Bachelor's degree in Political Sciences & Economics from the Lebanese University, Certificate in Terrorism & Counter terrorism from Georgetown University, certificate in Conflict Resolution, and a certificate in Digital Reputation from Curtin University.
Afiouni holds honorary awards in journalism, social work and women leadership. She also won the Best Personality Award in representing Lebanon at the International Crisis Symposium in Cyprus in 2005. She moderates sessions at global conferences on a variety of topics, ranging from politics, climate change, ESG, & media, with attendees and speakers varying from Royals, to Prime ministers & other highly influential figures.
Fluent in English & Arabic with knowledge of German & French, Afiouni has been a professional violinist for 27 years and in her leisure time, enjoys horseback riding and jogging.